Biggest Podcast Network in California
---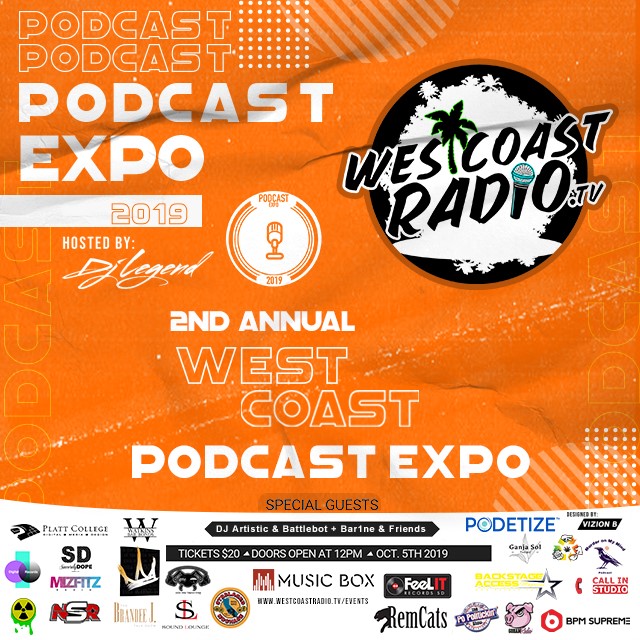 Come experience the biggest Podcast Expo in California in 2020!  The biggest underground Hiphop & Media event for Online Radio Stations, Bloggers & Podcasters.  Rappers, Videographers & DJs gain more exposure by attending this unique Expo for Media Platforms & upcoming Artists.
*Expecting 300 people in attendance
General Questions people ask:
What will I gain at this Expo if I'm an Artist or Media Platform?
Artists gain mass exposure by attending this unique event by interviewing multiple media platforms in 1 day
Podcasters network w/ other media platforms while interviewing the hottest artists in Southern California Area
*If you are interested in reserving a media podcast booth apply today to register at info@westcoastradio.tv
---
SPONSORS
---
2nd Annual – Podcast Expo (2019). Biggest underground media event in Southern California w/ over 40 media platforms under 1 roof. Podcasters, Online Radio Stations & Bloggers including Interviews, Art & Live Entertainment! #westcoastradioBrought to you by Platt College – San Diego Watkins Bail Bonds & thesoundloungesdHosted by @Aaron Legend Turner x Aux Cord Lord

Posted by WCR TV Network on Sunday, October 6, 2019
Podcast Expo (2019)
---
WCMA – SD Chapter
---
DJ Inspire – Media Panel
---
Podcast Expo (2019)
---
Podcast Expo – Part 2
---
Runway Show by EA One Nive Five
---
Booth #201 Grind4Minez Show at the 2nd Annual Podcast Expo. Hosted by Adrian Walker x @Jos Con Shot by @Flawless ProductionSee more videos n pics at www.westcoastradio.tv/podcastexpo Coming soon… Podcast Expo 2020

Posted by West Coast Media Association on Tuesday, October 15, 2019
 G4M Show
---
Platt College SD
---
Podcast Booths
---
Lexi Cocaine Interview
---
Art Corner
---
2nd Annual – Podcast Expo w/ @Jonny ChalkhandsTo see more pictures and videos go to www.westcoastradio.tv/podcastexpo Coming Soon…. Podcast Expo 2020

Posted by West Coast Media Association on Wednesday, October 16, 2019
Johnny Chalkands
---
Ganja Sol Podcast
---
Podcast Network
---
Interview Row
---
Dinner Gang Podcast
*Stats
50K Listeners
---
Daygo Hiphop Show
---
Str8 Laced – NO Chase
---
 MizFitz Radio
---
---
Po Politickin Podcast
---
G4M Show
---
NSR Podcast
---
---
---
---
---
---
---